R Sathyanarayan B.Com, FCA, CISA
Advisor - Business Development & F & A advisory services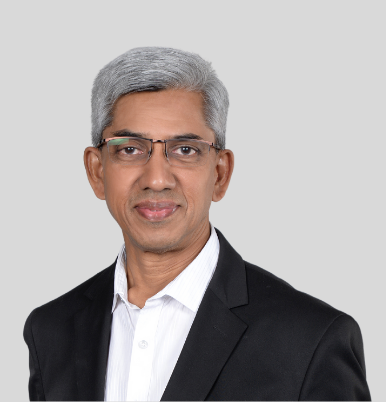 R.Sathyanarayan, FCA, DISA is a Chartered Accountant in practice with 3 decades' experience in Finance and Accounts.
Over the years, He has been advising both Corporate and Non-corporate entities in respect of every facet of F and A segment. Having dealt with varied categories of entrepreneurs drawn from different types of industries, his philosophy is to enable holistic decisions in respect of crucial matters of importance and hence, extends his role by reaching out to relevant stakeholders of an entity in order to arrive at a consensus. He has developed in himself an USP of aligning and cohesively working alongside other departments like Operations, HR, Admin in order to ensure involvement and meaningful implementation of crucial decisions.

Thus, by performing the role of a catalyst in a business environment, he has been able to acquire knowledge about the nuances of the operational aspects, which has helped in enabling realistic budgeting/forecasting, translating or capturing the functional aspects / flow of activities into the books of accounts, bringing in lucidity into MIS/dashboards, besides appropriate classification and presentation of financials.
He strongly believes and preaches that: In the present scheme of things, for the management to be in reasonable control of the operations, managing and regulating compliances, up-to- date book keeping, meaningful reporting , seamless communication channels, integration between IT infra / ERP/SAP and F&A, besides various other robust internal control systems have become hard core requisites for any entity.

"Necessity is the mother of invention" as the saying goes: Having begun his career from a pre-market liberalisation era and having been in the thick of the turbulent process of metamorphosis which the Indian economy underwent, he has moulded his traditional "practice" approach towards an "inclusive" mindset (similar to a test match batsman adapting to One day or a T-20 game), he specialized and mastered certain concepts like "cleaning up the BS", making an entity "due diligence fit", spelling out far reaching systemic suggestions with an eye on disaster management and advisory on implementation methodologies without any hindrance to the basic functioning of an organisation. Besides he has spent considerable time and taken efforts in networking with co-professionals whether drawn from tangential or off- tangent segments.
To sum up, His core skills include:
Advice on taxation issues
Comprehensive one-stop consultancy for start-ups
Audit advisory – Corporate and Non corporate
Virtual CFO services for MSMEs
Transaction advisory
Management Accounting dynamics
F and A resources capacity building
Due Diligence Reviews
Forecasting and Budgeting
Cross sectional analysis of an entity in conjunction with multi-disciplinary professionals
Looking for Business Consultation ?